So, your shoulder is hurting and you're not sure if you should go to see a physician – how do you know when to pick up the phone? In this article we'll talk about 3 examples of serious shoulder pain symptoms.
1. Shoulder Joint Instability
The first reason your shoulder pain symptoms could be serious is when your shoulder is popping in and out of place – this may be a reason to go seek medical attention from your orthopedic surgeon.
It's important to note that if your shoulder is dislocated, you should head straight to the emergency room. If, however, the joint just isn't stable or feels like it's going to pop out of place, there's time to book an appointment with an orthopedic surgeon.
When your shoulder feels like this, it may be one of three joints; glenohumeral joint (GH joint), your acromioclavicular joint (AC joint), and your sternoclavicular joint (SC joint) which is in the middle of your chest. Any sensation where you feel your joint is coming in and out of place, or it feels like a certain movement will make it come out of place, is definitely a reason to go see your doctor for evaluation. They can evaluate whether the structural integrity of your ligaments and your shoulder capsule are functioning properly.
2. Shoulder Pain and Weakness on Certain Movements
If you're experiencing shoulder pain symptoms and weakness when you try certain movements, such as reaching overhead or behind your back, you should get evaluated by your physician or orthopedic surgeon.
Maybe you're working out in the gym and doing some overhead press, or you're putting dishes away in your cabinet – anything where that arm is up above the shoulder and causing some pain and weakness. Or perhaps you're reaching behind you – like if you're reaching for your wallet behind you in your back pocket, or you've got some kids in the car seat behind you and you're trying to give them a snack. If you have any of those movements that cause pain and weakness, especially if it's getting worse, it's necessary to go see your doctor and get that evaluated and make sure you don't have any nerve damage or impingement.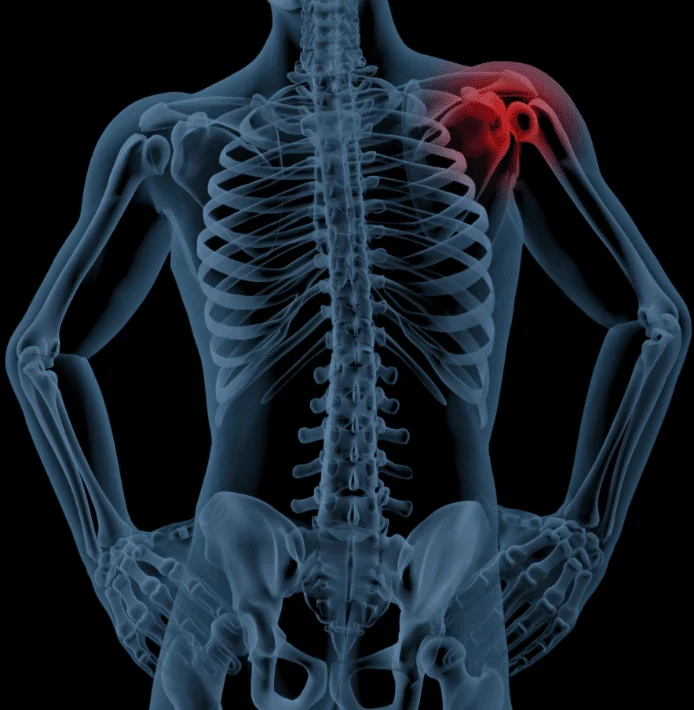 3. Struggling to Move Your Shoulder
The most important worrying sign is losing shoulder motion. Maybe one day you wake up and you notice your shoulder isn't quite moving as well as it was before – after a little while you realize it's moving less and less and it's getting stiff and painful. This is definitely a reason to go see your doctor.
The shoulder joint can get very stiff, or it can have a diagnosis called frozen shoulder. We need to evaluate why that's happening and get you treatment options, including physical therapy, to get that motion back.
So What Happens When I Get an Evaluation For My Shoulder Pain Symptoms?
The first thing that will likely happen is for you to have a physical exam and some x-rays. X-rays are extremely important and are the single best initial diagnostic test for bone and joint problems. They tell us about the alignment of your bones and the different joint spaces. I've already mentioned in the shoulder that you have two very important joints, the glenohumeral joint, and the acromioclavicular joint. There's also a space called the subacromial space. All three of these can be seen very well on X-ray.
After getting an x-ray, your doctor may ask for you to get an MRI. An MRI is excellent for seeing what's going on with your rotator cuff, and possibly the inflammation that might be in your shoulder.
After we have all the diagnostic tests in hand, we can develop a great treatment plan for you which may include physical therapy, injections, and possibly surgery for your shoulder pain symptoms.